---
The Human Errors Behind Data Breaches
February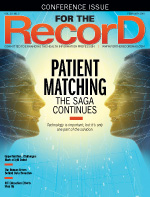 2018
The Human Errors Behind Data Breaches
By Julie Knudson
For The Record
Vol. 30 No. 2 P. 24
Poor habits and a lack of awareness contribute to PHI exposures.
A Protenus review of 2016 health care security incidents—those reported directly to Health and Human Services plus breaches revealed through media reports or other sources—shows that more than 27.3 million patient records were impacted. But health care isn't the only vulnerable sector; data exposures are a scourge in nearly every industry.
From Equifax to Anthem, Target to Chipotle, hackers don't discriminate.
With every breach comes new insight about threats and how to eliminate them. There are lessons from across the security spectrum that HIT and leadership teams can use to reduce their risk of a compromise. While fingers often point to weaknesses in technology, human error is at the heart of many data breaches.
To read the full article, visit For the Record.