---
Surviving the Storm — And Other EHR Downtime Disasters
Surviving the Storm — And Other EHR Downtime Disasters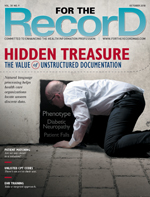 By Elizabeth S. Goar
For The Record
Vol. 30 No. 9 P. 14
From hurricanes to hackers, forces of all kinds can disrupt medical record service. Is your organization prepared?
When Hurricane Ike slammed into Galveston in 2008, it swamped the University of Texas Medical Branch (UTMB) with eight feet of water on the first floor. The hospital campus had been evacuated in advance of the storm and it was several days before flood waters receded enough to allow Alexa Cross, who at the time was UTMB's associate director of HIM, and the HIM team to get back onto the island to survey the damage and retrieve current patient records.
To read the full article, visit For the Record.