---
Medical Device Security
September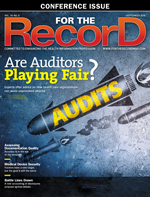 2018
Medical Device Security
By Sarah Elkins
For The Record
Vol. 30 No. 8 P. 20
Hackers have a new target, but the goal is still the same.
It's a plot right out of Hollywood: Nefarious hackers gain access to a world leader's pacemaker and threaten to assassinate him unless $10 million are wired to an offshore account. It's a vaguely familiar plot, isn't it? TV thriller Homeland had a similar episode in 2012. Or perhaps you have a faint memory of headlines from 2007 when then Vice President Dick Cheney, motivated by concerns that his pacemaker could be hacked, had its wireless capability disabled.
To read the full article visit, For the Record.